The unique design of Thiral's Exclusive aluminum panels has become synonymous with years of experience, expertise, and modern technology. The Exclusive series combines simplicity with the prevalent modern aesthetic, thus bridging design and modern architecture.
Thiral's Exclusive aluminum panels meet high quality standards and are certified with the ISO 9001:2015 international quality assurance standard, as well as by the Rosenheim Institute.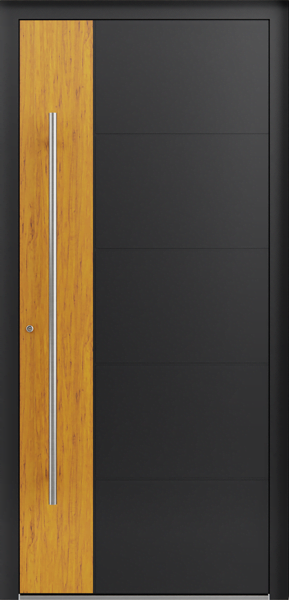 Our specialised personnel's personal care that goes into the production of these panels is combined with the fully automated process of design execution, which is carried out by the powerful CNC pantographs. The final stage in production involves our highly modernised Electrostatic Coating unit, ensuring an excellent and timeless final product.
Inox decorative elements are available in high quality stainless 316 steel and the installation process includes milling the aluminum and pressing the decorative into a coplanar or embossed dimension.
CERTIFICATION OF QUALITY ASSURANCE
INSULATION CERTIFICATION BY
Exclusive panels are distinguished for their elegant aesthetic design, while they are available in a great range with regards to design, colour and compatible accessories, thus covering any requirements in terms of architectural implementation. Exclusive designs combine elegance and full functionality, since they can be paired with compatible Inox and glass accessories and decorations, such as various handles and protective coverings. Characterised by their particular attention to design and decoration, Exclusive panels constitute a unique quality proposal, establishing the aesthetics of your house's entrance. Inox decorations are installed through the milling of aluminum sheet, so that it is perfectly aligned with the panel and the end product is smoothly realised.
IDEAL USE
Thiral's Exclusive panels, constitute an integrated front door proposal, which meets the highest standards, with regards to quality and thermal insulation, and offers high design and certified quality in materials and integrated applications. Furthermore, exclusive panels can be applied to any door system.
EXCELLENT THERMAL INSULATION
Exclusive panels offer excellent thermal insulation for optimal energy saving. The efficiency of their insulating capability is certified by the Rosenheim Institute and is based on high quality materials and strict technical standards regarding production. Through the use of three-layered or four-layered energy-efficient glass panes, the thermal insulation factor can be reduced up to 0.35 W/(m²K). Thus, Exclusive panels constitute the perfect option due to their high quality standards, as well as by reducing the energy-related footprint, cutting back on energy consumption and expenses, as well as upgrading the building's value.
THERMAL INSULATION FACTOR
Exclusive panels are installed to ensure extreme safety, using an aluminum sheet 3 mm thick on the outside and 2 mm thick on the inside. Three-layered, four-layered or triplex 4+4 mm high security glass panes are also available and can be enhanced with a steel sheet in the interior of the panel. It is for these high standards that Thiral's Exclusive panels render a sound option, capable of halting any front door system violation via a breach. Furthermore, their excellent stability render them an integral part of the door system, thus enhancing the sturdiness of the overall construction.
Thiral's Exclusive aluminum panels meet high quality standards and are certified with the ISO 9001:2015 international quality assurance standard, as well as by the Rosenheim Institute.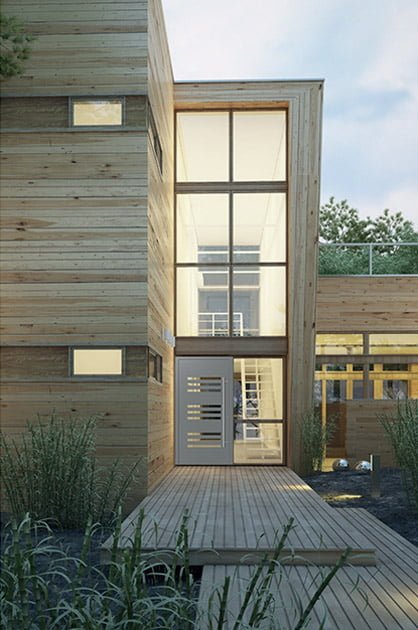 THREE-LAYERED, FOUR-LAYERED, TRIPLEX 4+4 PANES
TYPES OF EXCLUSIVE PANELS
Thiral's Exclusive panels are available in three different types, in order to meet any practical and aesthetic needs. Hence, Thiral offers the following: Type A, whose prominent characteristics include their three triplex energy glass panes, their aluminum sheet structure, which is armoured inside and out, and their excellent thermal permeability factors. Type B, whose characteristics match those of Type A, with the addition of a flat surface on the exterior side. Type C, which features a flat surface on both sides, four triplex glass panes, and outstanding insulation capability.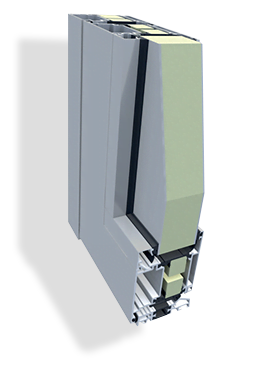 Three glass panes for optimal insulation
4+4 satinato inside and out
THERMAL PERMEABILITY FACTOR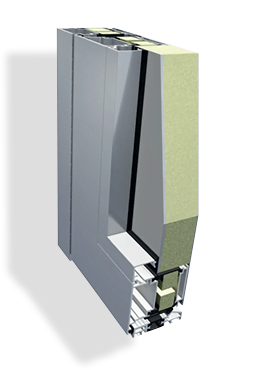 Three glass panes for optimal insulation
4+4 satinato inside and out
THERMAL PERMEABILITY FACTOR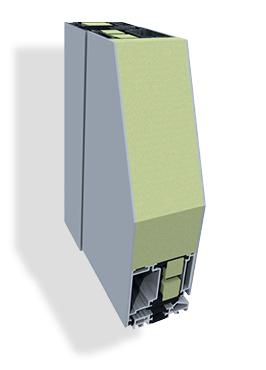 Flat surface on both sides
Four glass panes for optimal insulation
4+4 satinato inside and out
THERMAL PERMEABILITY FACTOR